For the first time, a three-dimensional metagenomics experiment has been carried out on a mouse intestinal microbiota sample. This method quantifies and exploits 3D physical contacts between DNA molecules present in a mix of species, to infer their proximity. It is then possible to analyze interactions between bacterial and phage genomes. The study carried out on this complex natural environment highlights the effectiveness of new approaches in genomics. Romain Koszul, who heads the Spatial Regulation of Genomes team at the Institut Pasteur, takes us through this discovery.
Intestinal microbiota is an essential part of the body's ecosystem. "We know that microbial dynamics, balance and interactions are strongly influenced by the phages present in the population," explained Romain Koszul, who heads the Spatial Regulation of Genomes group* at the Institut Pasteur in Paris. Phages are viruses that infect bacteria. This is why studying the relationship between bacteria and phages is key to an understanding of these ecosystems in all their complexity.
A metagenomic study...
Metagenomics is the discipline devoted to study of the metagenome – the set of DNA fragments extracted from a microbial community. However, "it is not easy to characterize complete bacterial and viral genomes from, say, a complex mix of species present in the intestinal microbiota," added Romain Koszul. "In addition, determining the DNA sequences of phages present in a bacterial population is just the easy part: the harder task is attributing phage sequences to their bacterial hosts." To facilitate this task, Romain Koszul's team used a new metagenomics approach, known as meta3C (the 3 Cs standing for chromosome conformation capture) – an experimental computational approach that exploits the physical contacts between DNA molecules to infer their proximity. "A previous project had allowed us to test this technique on known populations. Here, we fix a microbial population of unknown composition, freeze the 3D structures of all the DNA fragments and measure the frequency of contacts between them. We are then in a position to establish a contact map for these DNA fragments and, using algorithms we developed ourselves, reconstitute the genomes of the different bacteria and phages in the population." By analyzing the contacts between these genomes, the team is subsequently able to ascertain which phages are in contact with which bacteria.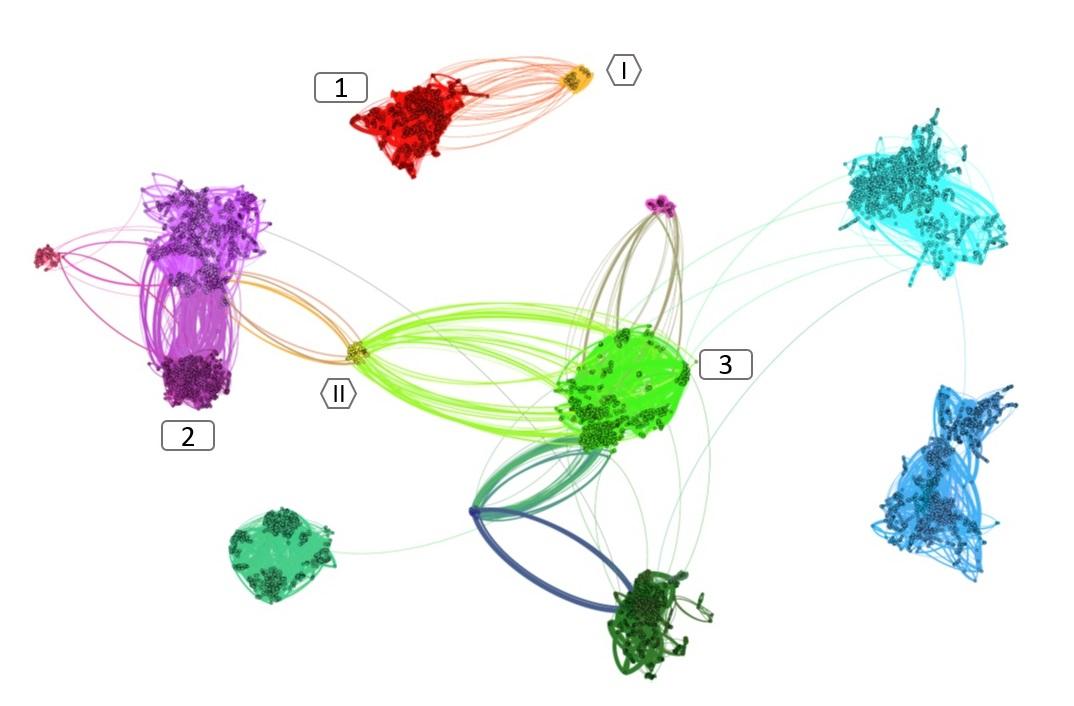 With the meta3C metagenomic approach, a map of contacts among all the pieces of microbial DNA is established. Computational analyses allow the reconstitution of the genomes of different bacteria (large groups of contigs creating many contacts among themselves) and phages (that correspond to little groups of DNA fragments) and it can be deduced from this which phages are in contact with which bacteria. For example, the DNA of bacteria 1 is in contact with the DNA of phage I, which suggests that this bacteria is the host of this phage. Bacteria 2 and 3 are both in contact with the DNA of phage II, which suggests that this phage can infect both species.
...on mouse intestinal microbiota 
One of the strengths of their new study, which was published in February 2017, is that it demonstrates their method on a complex natural sample: murine intestinal microbiota. "By analyzing mouse feces, we were able to work with almost 375,000 small microbial DNA fragments, from which we reconstituted about 100 bacterial and viral genomes," explained Romain Koszul, "and we observed the physical contacts between these genomes, which was something that had never been done before." This project opens new avenues for building a complete picture of the genomic structure of intestinal flora. "We have characterized new phages and their infection spectrums – in other words whether they infect one bacterium or more than one." This type of analysis of microbiota genomes has significant implications for studies in human health, since it opens important new possibilities for studying the dynamics of these ecosystems. "We can, for example, study how antibiotic resistance genes propagate through complex microbial populations under different conditions." In addition, Romain Koszul's team is now part of a European consortium that brings together research initiatives in antimicrobial resistance: the Joint Programming Initiative on Antimicrobial Resistance (JPI AMR). "Our method will be used on human samples from hospitals and samples from the food industry," said Romain Koszul. Analyses, which currently only serve for research purposes, will provide valuable information on the adaptation and evolution of the species present in microbial ecosystems. And, who knows, they may one day have diagnostic applications to support prescriptions in hospitals, for example.
*This laboratory is a "Five year group" – a research team comprising young scientists with high potential.
Source
Scaffolding bacterial genomes and probing host-virus interactions in gut microbiome by proximity ligation (chromosome capture) assay, Science Advances, February 17, 2017.
Martial Marbouty1,2, Lyam Baudry1,2, Axel Cournac1,2, Romain Koszul1,2
1. Institut Pasteur, département Génomes et génétique, groupe Régulation spatiale des génomes, 75015 Paris, France.
2. CNRS, UMR 3525, 75015 Paris, France.