Three-dimensional spatial genome organization plays a fundamental role in gene expression regulation. However we do not know yet whether DNA viruses contact specific regions of host genomes or make random contacts. Institut Pasteur scientists have recently demonstrated that, although they use different strategies, viral DNAs preferentially contact specific active chromatin regions because they seemingly provide a favorable environment to their own transcription. Their research also suggests that viral/cellular DNA contacts interfere with cellular gene expression. This opens up new avenues for studying the mechanisms that control viral transcription.
3D spatial genome organization has a key role to play in many DNA metabolic processes, including gene expression regulation. Viruses that transcribe their DNA in the nucleus have to adapt to the existing cell mechanisms governing transcriptional regulation. We know that they use or re-direct the host's transcriptional machinery to induce viral gene expression. But we do not know yet how DNA viruses deal with this level of regulation controlled by 3D genome organization.
Institut Pasteur scientists from the Hepacivirus and Innate Immunity Unit and Spatial Regulation of Genomes Unit have therefore studied two types of DNA virus – the hepatitis B virus (HBV) and adenovirus type 5 (Ad5).
The hepatitis B virus (HBV) is a DNA virus that exists in the nucleus as a closed circular double-stranded form called cccDNA (covalently closed circular DNA). This DNA serves as a template for the transcription of all viral RNAs, including pregenomic RNA (pgRNA), which is encapsidated and retrotranscribed(1) in the cytoplasm as partially double-stranded DNA (or RC-DNA). The capsids are enveloped at the endoplasmic reticulum and then secreted. During infection by the hepatitis B virus, the RC-DNA contained in the capsids is translocated into the nucleus and repaired to form cccDNA.
(1) Retrotranscription is the reverse transcription of RNA into DNA by an RNA-dependent DNA polymerase enzyme.
Adenovirus type 5 (Ad5) is part of a large family of viruses that infect a broad range of vertebrate hosts. It is a non-enveloped virus that contains a 36-kilobase-long linear double-stranded genome. Following infection, the genome is released into the nucleus where transcription occurs. Ad5 transcription is, by convention, separated into two phases by viral DNA replication.
"Our study has shown that these two DNA viruses do not randomly localize in the nucleus but accumulate in active regions. Not only that, these regions seem to differ according to the viruses, which suggests that host transcriptional regulation plays a role in this accumulation", explains Romain Koszul, Head of the Spatial Regulation of Genomes Unit at the Institut Pasteur. His team uses chromosome conformation capture (Hi-C) techniques to study the 3D organization of genomes. With Christine Neuveut, group leader of the Molecular Biology of Hepatitis B virus group, and Pierrick Moreau, a post-doctoral fellow in this group at the Institut Pasteur, they have developed the viral DNA capture (CHi-C) technique, derived from Hi-C approaches, and have studied primary human hepatocytes infected with HBV or Ad5. They have concluded that DNA viruses preferentially contact active chromatin but each use different specific strategies.
"We have shown that the hepatitis B virus contacts CpG islands – DNA regions enriched in factor Cfp1 – and that this factor is required for its transcription", adds Christine Neuveut. "This suggests that HBV preferentially contacts these specific active chromatin regions because they provide an environment conducive to its own transcription."
In addition, the data suggests that these interactions between viral and cellular DNA are not neutral and that HBV could interfere with cellular gene expression. This could, in the long term, contribute to pathogenesis as in the case of chronic HBV infections. These conclusions have been reinforced by research into the Ad5 virus, underlines Pierrick Moreau: "We have shown that Ad5 preferentially contacts active chromatin in transcription start sites and activating regions (enhancers) of highly expressed genes and genes whose expression is increased during infection."
Next, it will be important to identify the mechanisms responsible for directing viral DNA to active chromatin regions. Knowledge of these mechanisms would open up new therapeutic strategies targeting the establishment and maintenance of hepatitis B virus cccDNA for example.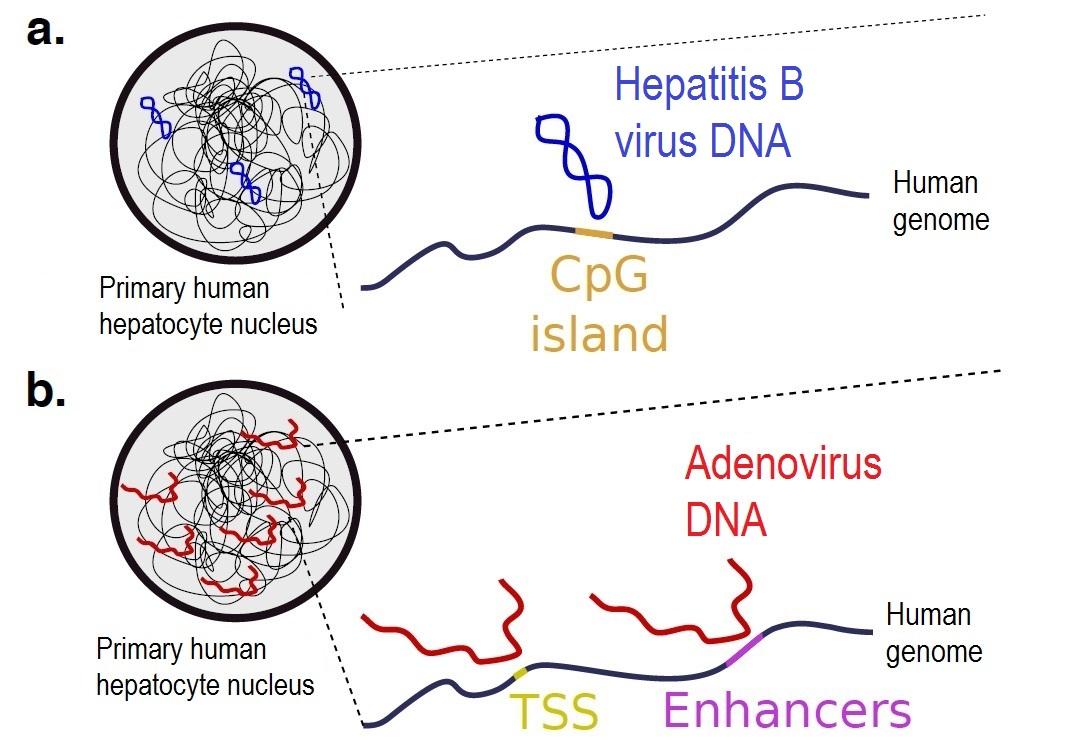 Schematic representation of preferential contacts (a) of the hepatitis B virus with CpG island
s
and (b) of adenovirus type 5 with transcription start sites (TSS) and enhancers (or activating regions) in primary human hepatocytes. Copyright: Institut Pasteur
Source
Tridimensional infiltration of DNA viruses into the host genome shows preferential contact with active chromatin, Nature Communications, October 15, 2018.
Pierrick Moreau1,2,3, Axel Cournac4,5, Gianna Aurora Palumbo1,2,3, Martial Marbouty4,5, Shogofa Mortaza4,5, Agnes Thierry4,5, Stefano Cairo6, Marc Lavigne3,7, Romain Koszul4,5 & Christine Neuveut1,2,3.
1. Institut Pasteur, Unité Hepacivirus et Immunité Innée, 75015 Paris, France.
2. CNRS, UMR 3569, 75015 Paris, France.
3. Institut Pasteur, Département de Virologie, Paris, France.
4. Institut Pasteur, Département Génomes et Génétique, Groupe Régulation spatiale des génomes, 75015 Paris, France.
5. CNRS, UMR 3525, 75015 Paris, France.
6. XenTech, Research and Development Department, 91000 Evry, France.
7. Institut Cochin-INSERM U1016-CNRS UMR8104, université Paris Descartes, Paris, France.
These authors contributed equally: Pierrick Moreau, Axel Cournac.
Contacts : christine.neuveut@pasteur.fr ; romain.koszul@pasteur.fr