Scientists from the Institut Pasteur and the CNRS have made a major breakthrough in understanding the molecular structure and workings of an important part of the arsenal employed by bacteria to destroy cells or other bacteria. This study, published in Nature, focuses on the assembly mechanism and gives a detailed description of the architecture of a key component in the bacterial type VI secretion system.

The molecular crossbow: a vital weapon in the bacterial arsenal. © Institut Pasteur
Bacteria ensure their survival and development by secreting virulence factors capable of modifying the physiology of the cells they infect (target cells) to their advantage. These virulence factors cross the physical and chemical barrier of the bacterial envelope and are injected into target cells via "secretion systems" – complex molecular machinery often comprising assemblies of more than a dozen protein elements. Determining the precise architecture of these secretion systems is crucial to help curb the secretion process and prevent its adverse effects on health. 
The bacterial type VI secretion system is one of the main weapons in the arsenal of several bacteria that are pathogenic for humans, including Escherichia coli, Vibrio cholerae and Pseudomonas aeruginosa. It resembles a molecular crossbow that propels an arrow made of the Hcp tube and the VgrG tip into the cytoplasm of the target cell. This crossbow is stably attached to the bacterial envelope via a membrane complex. In this study, the team led by Rémi Fronzes (Institut Pasteur / CNRS), working closely with the groups led by Eric Cascales and Christian Cambillau (Aix-Marseille University / CNRS), demonstrates that this complex is assembled by the addition of three proteins: TssJ, TssM and TssL. The scientists present its structure, which was elucidated using high-resolution electron microscopy. Their determination of the crystal structure of part of this complex, together with in vivo research on bacteria, suggests that a transient pore is formed in the outer membrane to allow the Hcp/VgrG arrow to pass through. These results therefore reveal the composition, molecular architecture and workings of a key component of the type VI secretion system.
The long-term aim is to develop therapeutic strategies which target these stages in the formation of the type VI secretion system so that it can ultimately be blocked.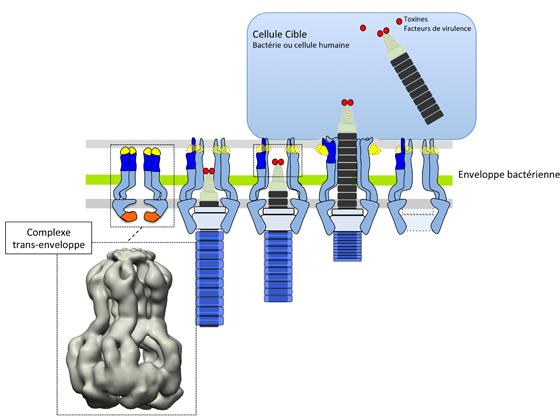 Human nonphagocytic cells infected by the pathogen Listeria monocytogenes (bacteria in red, actin in green, and nucleus in blue). © Institut Pasteur
 Source
Biogenesis and structure of a Type VI secretion membrane core complex, Nature, DOI: 10.1038/nature14667 July 22, 2015
Eric Durand(1,2,3,4,5*), Van Son Nguyen(2,5*), Abdelrahim Zoued(1*), Laureen Logger(1), Gérard Péhau-Arnaudet(4), Marie-Stéphanie Aschtgen(1), Silvia Spinelli(2,5), Aline Desmyter(2,5), Benjamin Bardiaux(4, 6), Annick Dujeancourt(3,4), Alain Roussel(2), Christian Cambillau(2,5), Eric Cascales(1) and Rémi Fronzes(3,4)
1 - Laboratoire d'Ingénierie des Systèmes Macromoléculaires, Aix-Marseille Université - CNRS, UMR 7255, 31 Chemin Joseph Aiguier, 13402 Marseille Cedex20, France_
2 - Architecture et Fonction des Macromolécules Biologiques, CNRS, UMR 7257, Campus de Luminy, Case 932, 13288 Marseille Cedex 09, France
3 - G5 Biologie structurale de la sécrétion bactérienne, Institut Pasteur, 25–28 rue du Docteur Roux, 75015 Paris, France.
4 - UMR 3528, CNRS, Institut Pasteur, 25–28 rue du Docteur Roux, 75015 Paris, France
5 - AFMB, Aix-Marseille Université, IHU Méditerranée Infection, Campus de Luminy, Case 932, 13288 Marseille Cedex 09, France
6 - Unité de Bioinformatique Structurale, Institut Pasteur, 25–28 rue du Docteur Roux, 75015 Paris, France
Mis à jour le 23/07/2015