International Course on Antibiotics and Resistance (ICARe)
The emergence and spread of bacteria resistant to many drug classes seriously threaten all branches of modern medicine. There is currently no course providing advanced instruction on antibiotics and resistance. The specific goal of ICARe is to bring leaders in academics and industry together with trained scientists at the dawn of their careers. Cutting-edge approaches for detection of resistance and antibiotic discovery, chemical optimization, and usage that minimizes the developement of resistance will be examined.
Practical information
Les Pensières, Annecy, France
October 17-25, 2020
May 31, 2020
CLOSING DATE FOR APPLICATION: May 31, 2019
OBJECTIVE
The objective of the course is to train the next generation of scientists implicated in the study of bacterial resistance to antibiotics and the finding of new drugs
The faculty is composed of 40 internationally recognized scientists and physicians who have made important contributions to antibiotic development, and infectious diseases and resistance management. Faculty will be in residence for a minimum of two days and accessible for informal interactions. Graduates will emerge with a state-of-the-art understanding of existing antibiotics: modes of action, pharmacology, toxicology, mechanisms of resistance, impact of antibiotics on human and other ecologies, current approaches for mining chemical space for antimicrobial activity, the process of advancing hits to leads, the application of next generation nucleic acid-based technologies for antibiotic discovery and resistance detection, and perhaps, most importantly, training and experience in thinking creatively and innovatively about solutions to the problem. The course aims to build an international cadre of collaborative, well networked, and highly trained specialists.
THE THEMES OF THE CONFERENCES
Current infectious disease management and antibiotic use
Modes of action and mechanisms of resistance of existing classes : Cell wall, Ribosome, Nucleic acid synthesis / replication / transcription, efflux
Origin, mutations, and identifications of antibiotic resistance mechanisms
Antibiotic discovery
Antibiotic chemical matter : Natural products, synthetics
Antibiotic development and approval
New topics in antibiotic discovery
Strategies for more focused applications of antibiotics
New technologies for determination of susceptibility and detection of resistance
New antiinfective strategies
THE THEMES OF THE PRACTICAL WORK
Choosing the DNA sequencing technology
Data bases for antibiotic resistance and virulence
Detection and identification of resistance genes
Mobile genetic elements
TnSeq, RNASeq
Functional genomics
Phylogeny
The course will be administered over 8 days and will consist of formal instruction, review of the literature, small group problem solving including hands-on use of relevant computational tools, innovation-driven brainstorming sessions, and network building.
AUDIENCE
ICARe is designed for early career scientists - assistant professors, new industry scientists, MDs, and postdoctoral research associates - as well as members from developing areas contending with the practical challenge of managing the antibiotic resistance problem with limited resources. Attendance will be limited to 40 students and will reflect the global nature of the problem.
General Outline of the International Course on Antibiotics and Resistance
---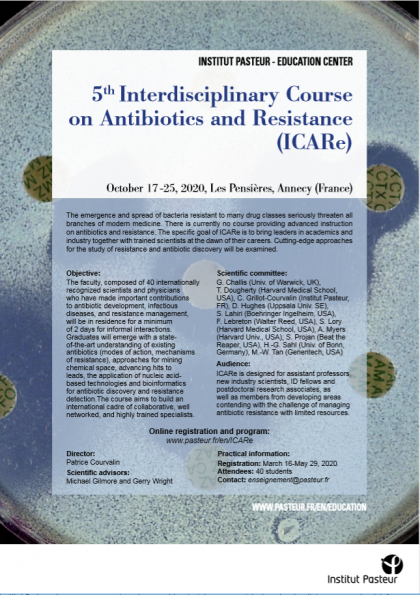 for more information: https://www.icarecourse.org 
More informations
Director(s)
Patrice Courvalin
Institut Pasteur
Head(s) of laboratory practicals
Catherine Grillot-Courvalin
Institut Pasteur
Members of the Course committee
P. Courvalin (Institut Pasteur)
C. Grillot-Courvalin (Institut Pasteur)
S. Malot (Institut Pasteur)
V. Ponticelli ( Institut Pasteur)
M. Sala (Institut Pasteur)
H. Waxin (Institut Pasteur)
SCIENTIFIC ADVISORS
M. S. Gilmore (Havard Medical School, USA)
G. D. Wright (Mc Master University, Canada)
SCIENTIFIC COMMITTEE
C. Arias ( Univ. of Texas, USA)
G. Challis (Univ. of Warwick, UK)
T. Dougherty (Harvard Medical School, USA)
S. Lahiri (Macrolide Pharmaceuticals, USA)
S. Lory (Harvard Medical School, USA)
A. Myers (Harvard Univ., USA)
S. Projan (MedImmune, USA)
H.-G. Sahl (Univ. of Bonn, Germany)
M.-W. Tan (Genentech, USA)
Tuition fees
Student: 1 000 euros
Self-financing: 1 000 euros
Training public organisation: 1 000 euros
Training private company: 3 000 euros
Others: Contact us
---
STARTING DATE FOR APPLICATION: February 11, 2020
CLOSING DATE FOR APPLICATION: May 31, 2020
Location
The course will take place at "Les Pensières Center for Global Health", Annecy, France.
Lodging and meals package : price 1980 euros for course duration (8 nights*/9 days)
*if necessary, one extra-night will be covered by the course
Rooms are prebooked. Please, confirm and pay your package to "Les Pensières for Global Health". Contact: contact@lespensieres.org