Insect vectors and transmission of pathogens
Epidemiology and Public Health
This Pasteur-IRD course focuses on diseases whose aetiological agents are transmitted by vectors and which constitute a major public health problem. The countries of the intertropical zone are primarily concerned, but the temperate zones are not spared with the recent occurrence of vector-borne diseases and the recent invasions of vector species.
Practical information
April 20-May 15, 2020
February 9, 2020
Diplomas
Credits for Public health Pasteur-CNAM Master
This Pasteur-IRD course combines theoretical and practical training in biology and control of disease vectors and the pathogens they transmit. The understanding of host-vector and vector-pathogen interactions and vector control will be addressed. Students will gain specialised skills covering all aspects of major vector-borne diseases.
Medical entomology is a key discipline for many past and present researchers at the Institut Pasteur and the IRD; in this line, this course deliberately combines tradition and modernity.
Lectures will be given during morning sessions by more than 40 internationally recognized experts in their field of research. It will be focused on the ecology and biology of insect vectors, and the control of their natural populations.
Practical work will be offered during afternoon sessions, also by experts on the main families of (insect and tick) vectors or nuisance, as well as on the basic techniques in medical entomology.
Students are invited to actively participate in discussions with speakers during conferences and roundtables. The course provides a unique opportunity to enter in the world of research in Medical Entomology.
This IP-IRD course will be held every even-numbered year at the Institut Pasteur Paris. A 2-week workshop will be conducted in an institute of the Institut Pasteur International Network in odd-numbered years; vector diseases of importance to the region will be examined.
---
Sponsor : We thank you LabEx IBEID for its support
Applications are evaluated by the Course Committee.
---
The Medical Entomology course of the Institut Pasteur celebrates its 30th anniversary (1988-2018)
By Anna-Bella FAILLOUX1 and François RODHAIN2
1 Institut Pasteur, Department of Virology, Arboviruses and Insect Vectors
2 Honorary Professor at the Institut Pasteur
Entomology which studies the insects, is an old discipline taught at the Institut Pasteur. Alphonse Laveran in Constantine, Algeria, first described the malaria parasite Plasmodium in 1880; his work on protozoans allowed him to receive the Nobel Prize in 1907. Subsequently, in 1898, Paul-Louis Simond succeeded to demonstrate that the bacterium responsible for the plague, Yersinia pestis discovered in 1894 by Alexandre Yersin, was transmitted by the flea. Later, at the Institut Pasteur in Tunis, Charles Nicolle discovered in 1909 the role of the body louse Pediculus humanus in the transmission of the bacterium Rickettsia prowazekii responsible for the typhus; for this discovery, he earned the Nobel Prize in 1928. These illustrious scientists have imposed medical entomology as a Pasteurian discipline, which was then taught at the Institut Pasteur; first of all, by Prof. Emile Roubaud who created the first laboratory of entomology in 1914. Then, a course led by Prof. Paul Grenier was created in the 1960s; it was jointly organized by ORSTOM (the current IRD) and the Entomology Medical Service of the Institut Pasteur. This course lasted two years and was followed by a practical internship of six months at the Muraz Center in Bobo-Dioulasso, Upper Volta (currently Burkina Faso).
This course ended in the 1970s. Considering the alarming situation of the discipline, the direction of the Institut Pasteur in Paris decided to create in 1988 the course of medical entomology led by Prof. François Rodhain and Dr. Claudine Perez-Eid. This course was delivered every two years, for 3 months, for French-speaking students. In 2004, this course renamed "Arthropods Vectors and Human Health" of 2 months was conducted by Prof. Paul Reiter of the Institut Pasteur and Dr. Vincent Robert of the French National Research Institute for Sustainable Development (IRD). After three sessions, this course was interrupted in 2011. In March 2016, the course came back to life under a new name: Insect Vectors and Transmission of Pathogenic Agents" (IVTPA). This one-month course is offered every 2 years in alternation with a 2-week workshop organized in an institute of the Institut Pasteur International Network (IPIN). In combination with the course IVTPA, the MOOC "Medical Entomology" was created; it proposes about 30 videos of 10 min. over 6 weeks.
Since 1988, the medical entomology course of the Institut Pasteur, in its different forms, has trained 173 students, 38% coming from the IPIN and nearly, one third from Africa. We wish a long life to this course and conclude this celebration with these words: When we know one thing well, we do it. When we do not know it well, we conduct it. When we do not know it at all, we teach it!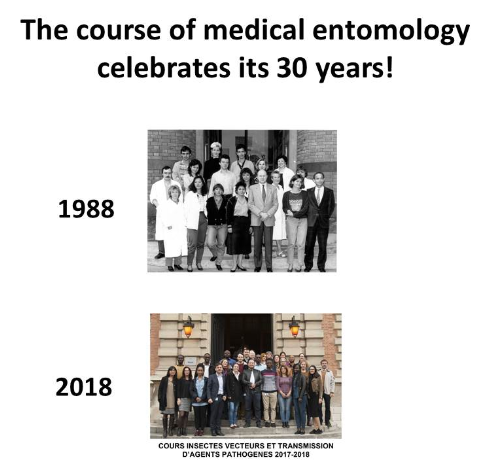 More informations
Director(s)
Anna-Bella Failloux
Unité Arbovirus et Insectes Vecteurs
Institut Pasteur
Vincent Robert
Institut de Recherche pour le Développement
Head(s) of laboratory practicals
Laurence Mousson et Marie Vazeille 
Unité Arbovirus et Insectes Vecteurs 
Institut Pasteur
Members of the Course committee
A.B. Failloux (Institut Pasteur),
M. Lucas-Hourani (Institut Pasteur),
S. Malot (Institut Pasteur),
L. Mousson (Institut Pasteur),
V. Ponticelli (Institut Pasteur),
V. Robert (IRD),
M. Sala (Institut Pasteur),
O. Silvie (Sorbonne Université),
M. Vazeille (Institut Pasteur),
H. Waxin (Institut Pasteur).