When Louis Pasteur filed a patent for a beer production process, the Carlsberg brewery was the first to use it in Denmark. Jacob Christian Jacobsen, founder of Carlsberg, developed a deep respect for Pasteur. Their mutual esteem and sincere friendship stood the test of time. A symbol of their relationship is the famous painting by Léon Bonnat, produced in 1886 at the request of J.C. Jacobsen and given by his son Carl Jacobsen to Louis Pasteur in 1888.
On June 28, 1871, Louis Pasteur filed an invention patent for a beer production process. He had observed that fermentation was caused by microorganisms, and he proposed a method to destroy them by heating the liquid to a minimum temperature of 55°C for a few minutes, then immediately cooling it. This method, applicable to all perishable liquids, is known the world over as "pasteurization."
In Denmark, Carlsberg was the first brewery to pasteurize its beer. Jacob Christian Jacobsen founded the Danish brewery Carlsberg in 1846 and the Carlsberg Research Laboratory in 1875, the latter soon producing significant scientific results for brewers everywhere. "J.C. Jacobsen developed a deep respect for [Louis] Pasteur," explains Birgitte Skadhauge, Vice President, Carlsberg Research Laboratory | Carlsberg Foundation. He admired Pasteur even more than Professor Emil Chr. Hansen, a Danish mycologist and physiologist who Jacobsen had hired to work in his new Carlsberg laboratory. Professor Hansen, a fermentation specialist known as the "Nordic Pasteur," was a devoted student of Pasteur's research.
Encadré
What was the first thing Louis Pasteur patented?
The first "patent" filed by Louis Pasteur was for a process of alcoholic fermentation (February 3, 1857).
Between 1861 and 1873, Louis Pasteur then filed a series of other patents for acetic fermentation, wine preservation processes, and beer production (this last patent was filed on June 28, 1871).
Louis Pasteur himself played an important role in the relationship between Jacobsen and Hansen. "The two scientists [Hansen and Pasteur] discussed their theories together. Pasteur invited Hansen to come to Paris the following year. In his laboratory, he introduced him to his colleagues. Hansen's respect for Pasteur was reciprocated when in 1886, Pasteur awarded Hansen the gold medal of the Society for the Development of National Industry in France."
The brewer J.C. Jacobsen died in April 1887. The Institut Pasteur was established by decree on June 4, 1887, and building work soon began. On October 23, Louis Pasteur, who was in poor health following a stroke, asked Carl Jacobsen for two plaster molds of the bronze bust representing him, which had been commissioned by Carl's late father J.C. Jacobsen from the sculptor Paul Dubois. He wanted to give copies of the bust to his children. The original is on display in the entrance hall of the Carlsberg Foundation in Copenhagen.
---
"I would be very grateful to have a plaster cast of Carlsberg's original marble. (…) I hope, dear Carl, that you won't find my request too intrusive. It gives me pleasure to ask this of you, as it is a sign of the affection and recognition I had for the man whom we continue to grieve along with you."
Louis Pasteur to Carl Jacobsen, Paris, November 7, 1887.
---
When Pasteur received two copies of the bust, he immediately thanked Carl Jacobsen.
---
"The two boxes have arrived and their contents are in perfect condition. The care with which the items were wrapped indicates a great art lover who is served by wise workers. How can I thank you enough, dear Carl, for having these fine plaster molds made so quickly? Alongside the portrait by Edelfelt, I know of no other works that have a better likeness and have been as expertly executed. (…) I hope that this letter, with which I send, along with my thanks, my very best wishes for the new year, finds you in good health and happiness, both yourself and also Mrs. Jacobsen and all your beautiful and dear children."
Louis Pasteur to Carl Jacobsen, Paris, December 30, 1887.
---
In 1888, Carl Jacobsen made Louis Pasteur the guest of honor at the Nordic Exhibition of Industry, Agriculture and Art in Copenhagen, and presented him with a painting that has remained famous:
Pasteur and his granddaughter Camille Vallery-Radot – Léon Bonnat – Google Arts & Culture (in French)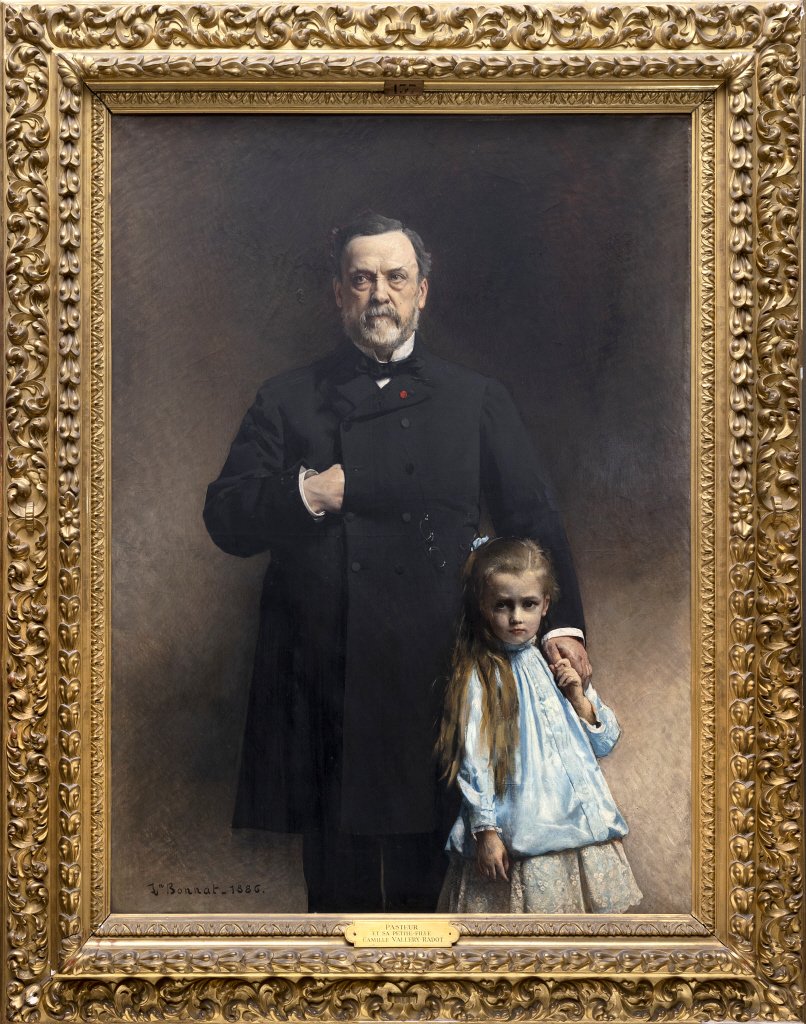 Louis Pasteur, decorated with the Legion of Honour, and his granddaughter, Camille Vallery-Radot. Oil on canvas signed Léon Bonnat (1833-1922) in 1886.
This painting was commissioned in 1885 by J.C. Jacobsen, director of the Carlsberg Breweries in Copenhagen, to be offered to Mrs. Pasteur. Carlsberg Breweries were the first breweries to pasteurize beer.
Copyright: Institut Pasteur/Musée Pasteur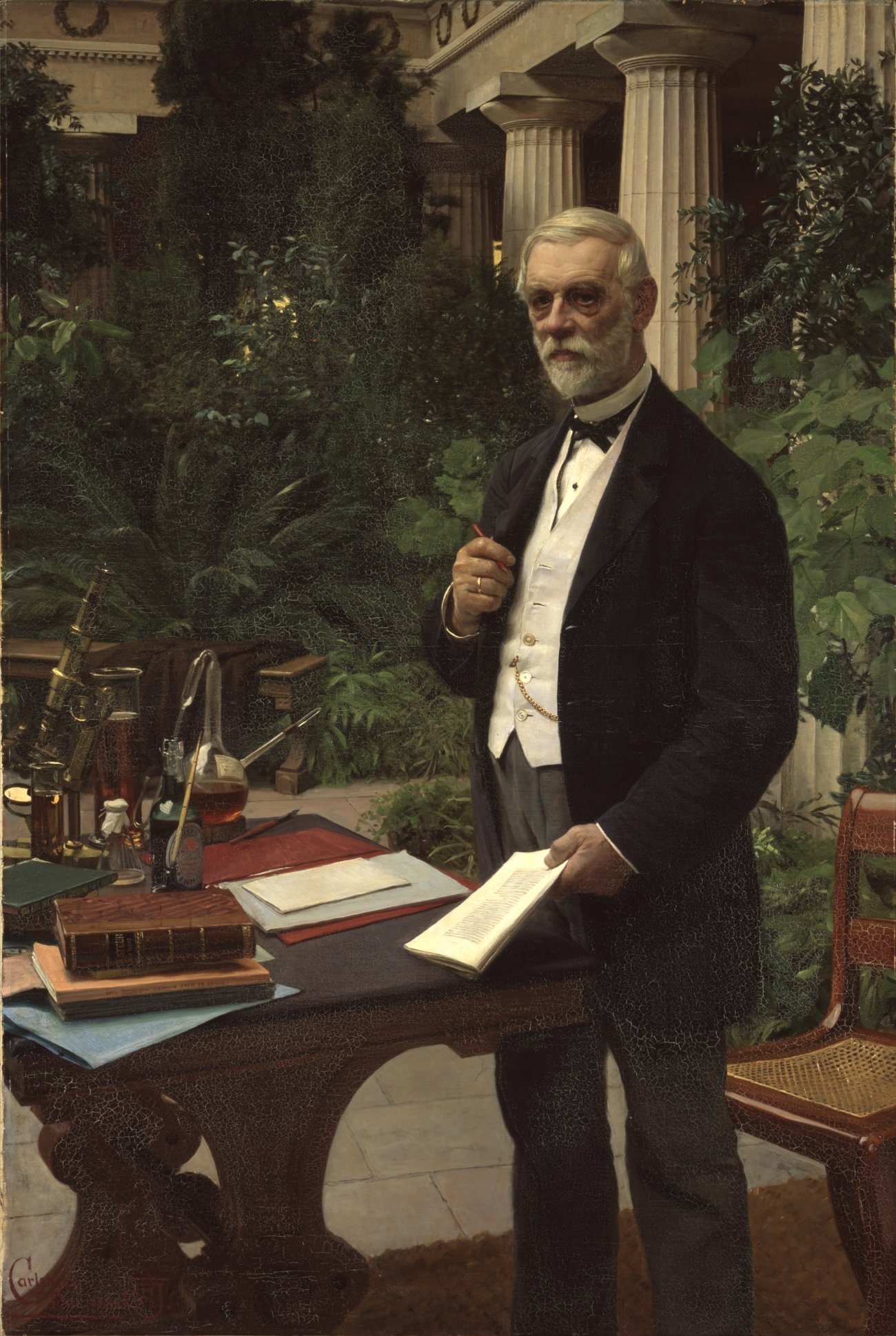 Jacob Christian Jacobsen, 1811-1887, brewer, founder of the Carlsberg Foundation and the Museum of National History at Frederiksborg Castle, Hilleroed, Denmark. Portrait painted by August Jerndorff 1886. Oil on canvas. The brewer stands in a pillar hall – the Pompeii greenhouse – in his home on Carlsberg. The microscope, the flasks and the books – by authors including Louis Pasteur – tell about the scientifically based brewing of beer. Copyright: Det Nationalhistoriske Museum på Frederiksborg Slot.
Still in poor health (in 1888), Louis Pasteur was unable to travel to Copenhagen, but he had established lasting links with the Carlsberg brewery, its founder J.C. Jacobsen and his son Carl, and the Danish scientist Emil Hansen.
On November 14, 1888, the Institut Pasteur was inaugurated in Paris.
On September 28, 1895, Louis Pasteur died in Marnes-la-Coquette (now in the Hauts-de-Seine department but at that time in Seine-et-Oise).
In 1901, at the end of his career, Danish scientist Hansen summed up his own achievements by borrowing the famous words of Pasteur: "There is nothing more satisfying for a scientist [...] than to make new discoveries. But the pleasure is doubled when he sees them being directly used in daily life."